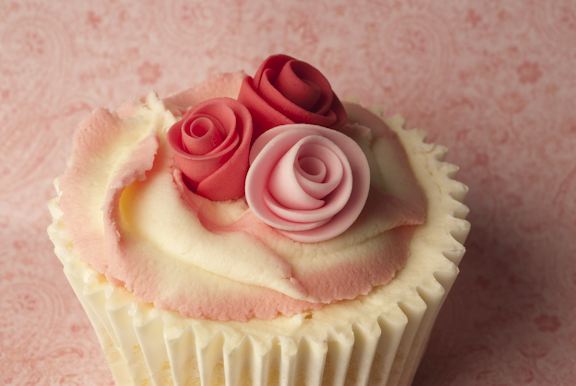 Cupcake Decorating
During this sell-out cupcake decorating course, you will learn how to make amazing professional cupcakes using a number of decorating techniques in just one session. Our cupcake classes are held in a beautiful, modern kitchen in a home from home setting in Poole in Dorset.
In this intensive, great value workshop you will create some of the cupcakes featured on this page. Crammed with techniques and tips.
What we show you would normally be covered in two classes at least, but we want to save you time and money. No prior experience is needed and you will be amazed at how professional your cupcakes will look after just one of these cupcake masterclasses.
Please make sure to have a good read of our Terms and Conditions before purchasing.
What you'll learn on this course
Baking Demo
There'll be a demo on how to make perfectly flat, moist cupcakes and a Q&A session on how to avoid your cakes peeking, how to avoid under baking, how to avoid the cupcake cases coming away and lots more. We find most people really want to spend their time learning about decorating but we make sure that those of you who have problems with the baking side leave confident.
Buttercream & Piping
You will be given a lesson on how to make perfectly light and fluffy buttercream. You will also be taught how to pipe buttercream to create a professional finish — including a beautiful two tone rose — without having to buy expensive speciality piping bags.
Colouring pastes
You'll be taught which pastes to use and when. We'll help you to create colouring pastes that aren't too sticky, and we will teach you about which colours go together to really make a difference to your finished cakes. Getting the hang of this will really make your cakes stand out from the crowd.
Flowers, fondant and more
You'll learn how to make freestyle icing decorations without having to use cutters. You'l also be shown how to properly use cutters, moulds and tools to make some fabulous flowers, hearts, butterflies, shoes, handbags, lingerie and more. The beautiful, hand-piped roses you'll make are a particular favourite!
While you're looking at this, you'll also learn how to create a professional fondant finish, as well as some tricks of the trade regarding embossing and patterning your fondant.
Lunch
To take any effort out of your indulgent day, we'll provide everything you need — including aprons, a presentation box for your cupcakes, notes, and recipes.
Depending on your time slot, we'll also prepare a delicious lunch or afternoon tea!